Alice Herz, pianist: born Prague 26 November 1903; married 1931 Leopold Sommer (one son deceased in 1944; ) died London 23 February 2014.
Alice Herz-Sommer: pianist and oldest known Holocaust survivor dies aged 110

Alan Rusbridger's interview with Alice Herz-Sommer from 2006
The Guardian, Sunday 23 February 2014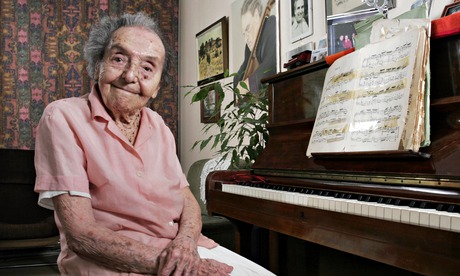 Alice Herz-Sommer, who has died at the age of 110. She spent two years in the Theresienstadt concentration camp
Tributes have been paid to Alice Herz-Sommer, a renowned concert pianist who was believed to have been the world's oldest Holocaust survivor, after she died in London at the age of 110.
She was born into a German-speaking Jewish family in Prague at a time when it was part of the Austro-Hungarian empire, and endured the city's ghetto following the Nazi invasion of Czechoslovakia. She then spent two years in Theresienstadt (Terezín) concentration camp, where nearly 35,000 prisoners perished.
In an extraordinary life, which was the subject of film nominated for the best short documentary at next Sunday night's Academy Awards, she counted Franz Kafka as a family friend when she was young and carried a devotion to music that sustained her in the camp.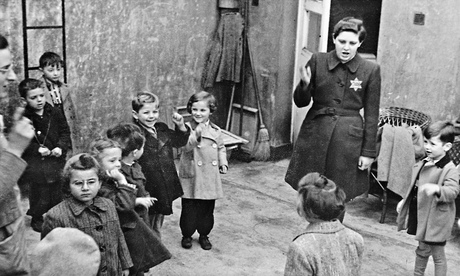 Images from the book The Garden of Eden in Hell. Photograph: Droemer
She died in a hospital on Sunday morning after being admitted on Friday, according to her family. Her grandson, Ariel Sommer, said: "Alice Sommer passed away peacefully this morning with her family by her bedside.

"Much has been written about her, but to those of us who knew her best, she was our dear 'Gigi'. She loved us, laughed with us, and cherished music with us.
"She was an inspiration and our world will be significantly poorer without her by our side. We mourn her loss and ask for privacy in this very difficult moment."

Alice Herz in 1924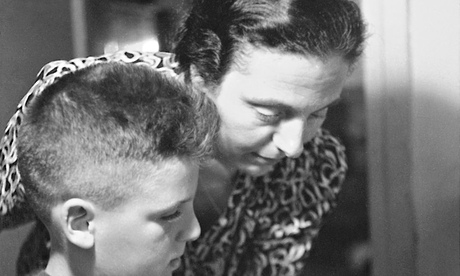 Alice with her son Raphael at the piano. Images from the book The Garden of Eden in Hell (Ein Garten Eden inmitten der Holle). Photograph: Droemer
Herz-Sommer came from a musical Moravian family. Her formal musical education began at five and she was soon taking piano lessons with Conrad Ansorge, a pupil of Franz Liszt.
She met her husband to be, Leopold Sommer, was also a musician, in 1931 and married him two weeks later. The couple and their son, Raphael, were sent from Prague in 1943 to a camp in the Czech city of Terezín (Theresienstadt in German) where inmates were allowed to stage concerts in which she frequently starred. She never saw her husband again after he was moved to Auschwitz in 1944 and many in her extended family and most of the friends she had grown up with were also lost in the Holocaust.
Link to video: Holocaust survivor Alice Herz Sommer playing piano
Following the war, she went to Israel in 1949 with her sisters and taught music in Tel Aviv before moving to London at the prompting of her son, who had grown up to become a concert cellist but who died suddenly in 2001 while on tour.
In a 2006 interview with the Guardian – when she was living alone, continuing to practice the piano for three hours a day and had also only recently given up a daily swimming routine – she spoke of her love of life and her passion for music.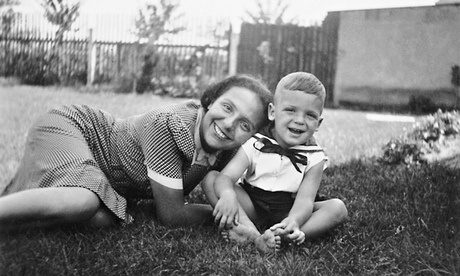 Of her concentration camp ordeal, she said: " 'People ask, 'How could you make music?' We were so weak. But music was special, like a spell, I would say. I gave more than 150 concerts there. There were excellent musicians there, really excellent. Violinists, cellists, singers, conductors and composers."
Alice and her son, Raphael. Photograph: Droemer
Asked if she ever thought about why she survived, she replied: "My temperament. This optimism and this discipline. Punctually, at 10am, I am sitting there at the piano, with everything in order around me. For 30 years I have eaten the same, fish or chicken. Good soup, and this is all. I don't drink, not tea, not coffee, not alcohol. Hot water. I walk a lot with terrible pains, but after 20 minutes it is much better. Sitting or lying is not good."
She added: "I am looking for the nice things in life. I know about the bad things, but I look only for the good things.
"The world is wonderful, it's full of beauty and full of miracles. Our brain, the memory, how does it work? Not to speak of art and music … It is a miracle."
Alice Herz-Sommer
Pianist and oldest Holocaust survivor who became a symbol round the world of optimism and tolerance
http://www.independent.co.uk/news/obituaries/alice-herzsommer-pianist-and-oldest-holocaust-survivor-who-became-a-symbol-round-the-world-of-optimism-and-tolerance-9150253.html

Alice Herz-Sommer in her London flat in 2012 (AP)

Martin Anderson

Tuesday 25 February 2014 Alice Herz-Sommer was a musician. But by the end of her long life, she was much more than that: the oldest living Holocaust survivor, she had become a symbol of tolerance and optimism known around the world. As a Jew living in Prague when Hitler swept into Czechoslovakia, she went to hell and back, but she would talk of her experiences with gratitude for the lessons they taught her and which to the end informed her outlook with a quiet radiance.

Her days of public performance were well behind her when she became famous, and with no commercial recordings available, not least because war and emigration dislocated her career, no one knew how important a musician she had been. It took the release in 2006 of a CD of private performances from her seventies and eighties, in conjunction with the publication of a biography, to reveal that she had been one of the finest pianists of the 20th century.

She was born into a German-Jewish family in Prague that was moderately well off and well-connected artistically: her father's business supplied the Hapsburg Empire with precision scales, while her mother had been a childhood friend of Gustav Mahler. Her elder sister, Irma, married Felix Weltsch, a close friend of Franz Kafka, who would take Alice and her twin sister Marianne into the woods and tell them stories. She remembered his "great big eyes", but she found him "a man who apologised to himself for being alive: shy, didn't speak and afraid of living".

Alice – called Gigi by friends and family – was given her first piano lessons by Irma, and responded with such enthusiasm that there was soon little doubt that she would become a musician. She took lessons with Irma's teacher, the composer and pianist Vaclav Stepan; she studied with him for 10 years.

She went on to take part, for three years, in the master-class of Conrad Ansorge, who had been a student of Liszt, a living link she would mention with pleasure almost a century later: "Liszt got a kiss from Beethoven, Ansorge got a kiss from Lizst and I got a kiss from Ansorge!" But she noticed that Ansorge would absent himself and come back smelling of alcohol; she arranged her lessons for first thing in the morning to catch him while he was sober.

At her debut in 1924 she played Chopin's E minor Piano Concerto to glowing reviews. She paid in advance for a year's study with Eduard Steuermann, who had had studied with Busoni and Schoenberg. She regretted the decision, giving Steuermann an account of the deficiencies of his teaching. Another disappointment was Arthur Schnabel, who in 1933 took a large fee simply to tell her that her playing was of a standard that he could not improve.

She was already earning an independent living as a piano teacher when she met, and in 1931 married, Leopold Sommer, a young businessman; their son Stefan was born in 1937. In 1938 the Munich Agreement gave Hitler a slice of Czechoslovakia, and when Germany occupied Prague in March 1939 her life changed for good. Her sisters and their husbands had bought visas for Palestine and left just in time; Alice and Leopold discussed emigration but couldn't afford two more visas, and there was Alice's aging mother to consider. They were stuck.

Terezin – Theresienstadt in German – is an 18th-century garrison town an hour's drive from Prague; in 1940 the Gestapo began to convert it into a ghetto to function as a transit camp for Jews on their way to the gas chambers. Since the Nazis often used Jewish labour, Leopold was put to managing the removal of Prague's Jews from the city, which meant that he, Alice and Stefan were sent to Terezin relatively late, in July 1943.

The reaction of their neighbours taught Alice a lesson she never forgot: her Czech "friends" ransacked their flat, helping themselves to anything they fancied – but a German officer billeted in the same building came to bid her farewell, thanked her for the music she had played, wished her well and expressed his hope that they would meet again.

The Sommers arrived in Terezín to find an intellectual life flourishing in the teeth of death: the Germans, realising it cut down on supervision, allowed the inmates to organise lectures, concerts and theatrical productions. After four years in occupied Prague, where Jews were forbidden any kind of public association (even ice cream and walks in the park were banned), Alice was delighted at the opportunity to perform again. She threw herself into musical life, giving over 150 concerts before liberation.

"We didn't eat," she recalled. "In the morning we had a black water named coffee, at lunchtime a white water called soup, in the evening a black water called coffee, so my son didn't grow a millimetre... I played the 24 Études by Chopin without eating." Music, she said, kept them alive: "We were not allowed music; it was all in our head. I believe we don't need food, in hard times we have a need ... it's a sort of religion maybe, this music for us was a religion." One of Herz-Sommer's most striking characteristics was her ability to draw something positive from the most adverse circumstances.

In September 1944, just before Leopold was sent from Terezin to Auschwitz, he made Alice promise never to volunteer for anything the Nazis proposed. The advice saved her life: a little later the authorities asked if the ghetto wives wanted to rejoin their husbands, and they joyfully climbed into the cattle wagons that took them to their deaths. Alice remembered her promise, and she and Stefan remained behind – and at the end of the war he was one of only 123 children to survive, of the 15,000 who had passed through Terezin.

His father had perished in Dachau only weeks before it was liberated. A fellow prisoner later brought Alice his spoon; it was all they had to remember him by.

Antisemitism survived the Nazis, of course: life in Soviet-dominated postwar Prague soon became intolerable and in 1949 Alice obtained visas for herself and Stefan to join her relatives in the new state of Israel. There she made a living from playing and teaching, privately and, for 25 years, at the Jerusalem Conservatory; she also made the occasional broadcast. Stefan took the name Raphael, the better to suit his new Israeli surroundings, and soon proved himself an exceptionally talented cellist.

It was his appointment to a teaching post at the Royal Northern College of Music in Manchester that prompted her move to Britain in 1975. For a decade she commuted between Israel and Britain, where she stayed with her son before she settled permanently in 1985 in the single-room flat in Belsize Park, where she lived out the rest of her days. The support of her family, especially the daily care of her grandson Ariel (who survives her, along with his brother David), allowed her to live alone, in proud self-reliance, until the very end.

Self-discipline was an important part of her routine, as it had always been: until advanced old age she went for a daily swim, walked, attended the University of the Third Ages and, every morning from 10 to 1, religiously practised the piano for three hours, something she continued to do right up to her death. She lived simply: a roast chicken every Monday provided the basis of the soups which sustained her for the rest of the week; she abjured coffee, tea and alcohol, drinking only hot water.

On weekday afternoons a succession of visitors – musicians, journalists, historians and more – came to see her; she received them in Czech, German, English, Hebrew or Yiddish, as required. Weekends were reserved for family, backgammon with friends and chamber music. As a last living contact with Franz Kafka, she was a favourite of Kafka scholars. On one of my occasional visits the phone rang three times in two hours with people wanting to come and talk to her about Kafka. I asked her if she didn't get fed up being asked the same questions all the time. Alice being Alice, she saw the bright side: "No, because where they come from, they ask me different questions".

That resilience was pushed to its limits in 2001, when she was 98: Raphael, on a concert tour of Israel, collapsed with a ruptured aorta and died on the operating table. But she drew comfort even from that tragedy: "I am so grateful that he died without pain". That indefatigable optimism was captured in a simple maxim she would repeat to her stream of visitors: "Life is beautiful".